Also available in these formats:
This document provides necessary steps to edit coupons. Using coupons can be a very effective marketing strategy, where shoppers will be able to access special discounts for specific items on the store and that way chose your site over the competition. Coupons can be limited to only a group of customer or a limited number of coupons per customer or in total.
Click Marketing.
Click Coupons. If there are no coupons previously created, this page will appear empty.
In order to add a coupon, access Marketing | Promotions. Details on how to add a coupon can be found in the following link .
If coupons have been added, then the Manage Coupons page will appear containing all coupons that have been created.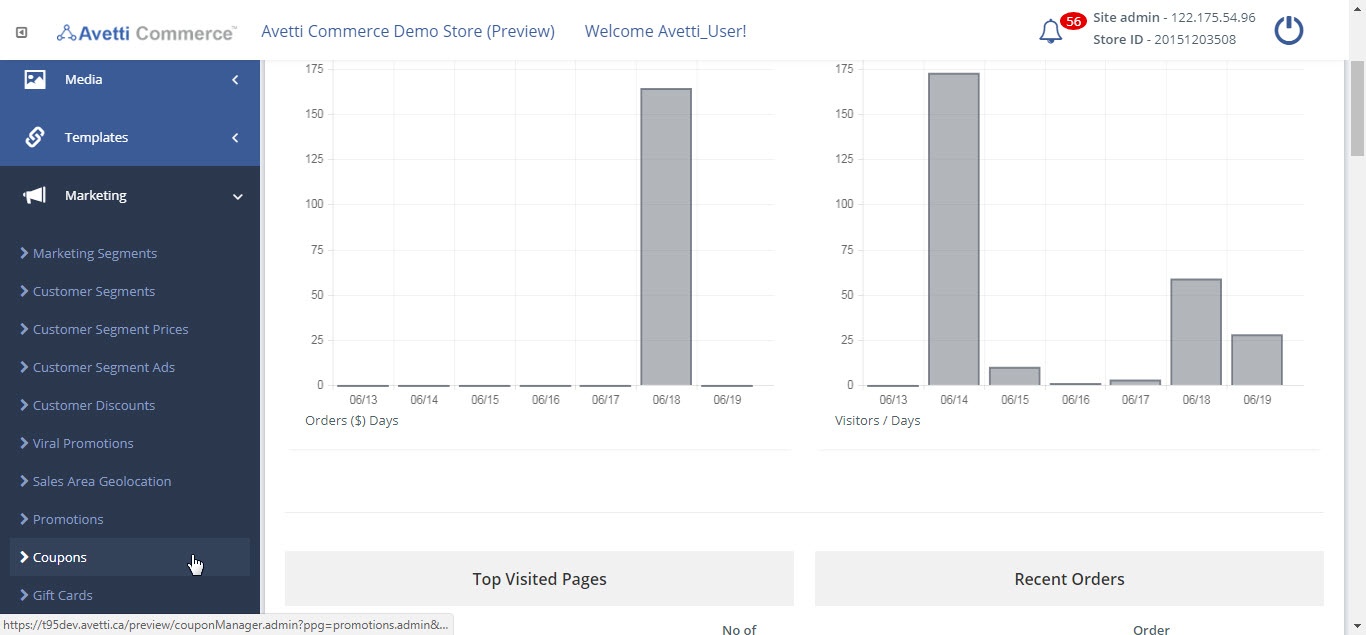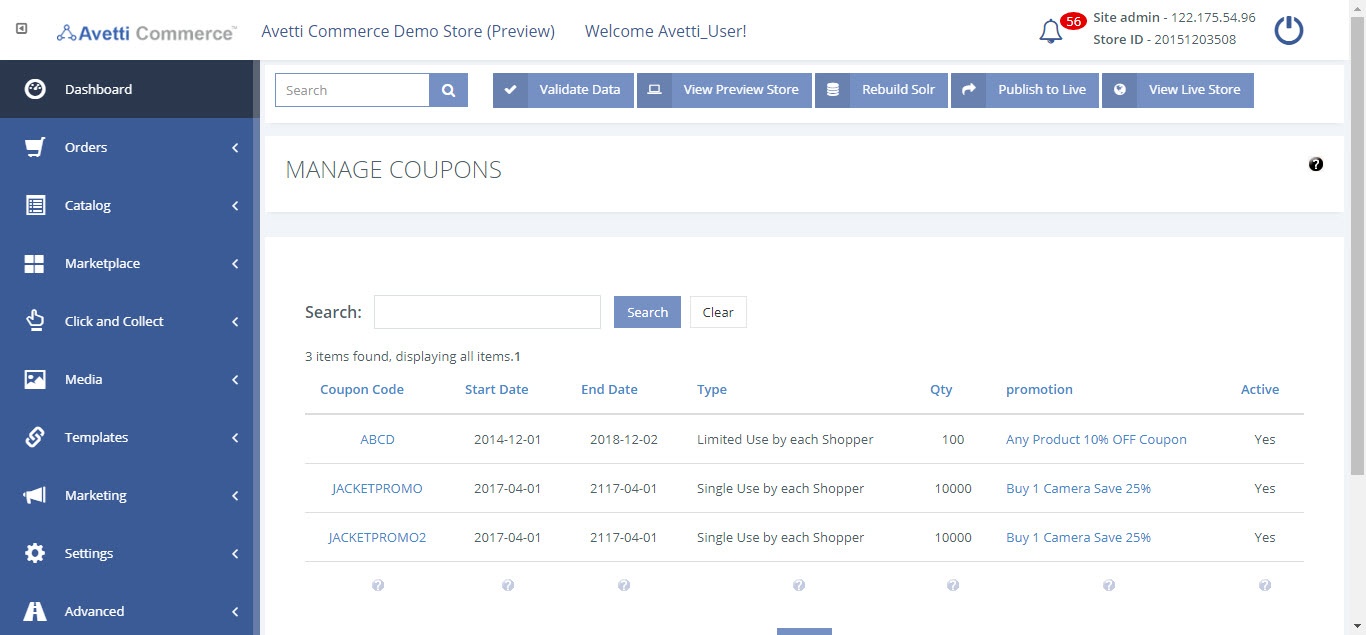 | Options | Description |
| --- | --- |
| Coupon Code | Is the unique identifier of the coupon code to allow it to be searched, by clicking the coupon code the page will redirect to the edit coupon page to edit the coupon, for more information on edit go to the edit section of this page. |
| Start Date | The day the coupon will be active. |
| End Date | The last day the coupon will be active. |
| Type | Single use by each shopperLimited use by each shopper groupLimited use by each shopperMultiple use permitted by any shopperEach type is explained in Marketing | Promotions under coupons. |
| Qty | The amount of coupons available to use. |
| Promotion | What promotion contains that coupon code, clicking the promotion, the page will redirect to the edit page of the promotion. |
| Active | If the coupon is currently active or not. |
Search for Coupons #
Enter the Coupon code in the search bar to search for coupons.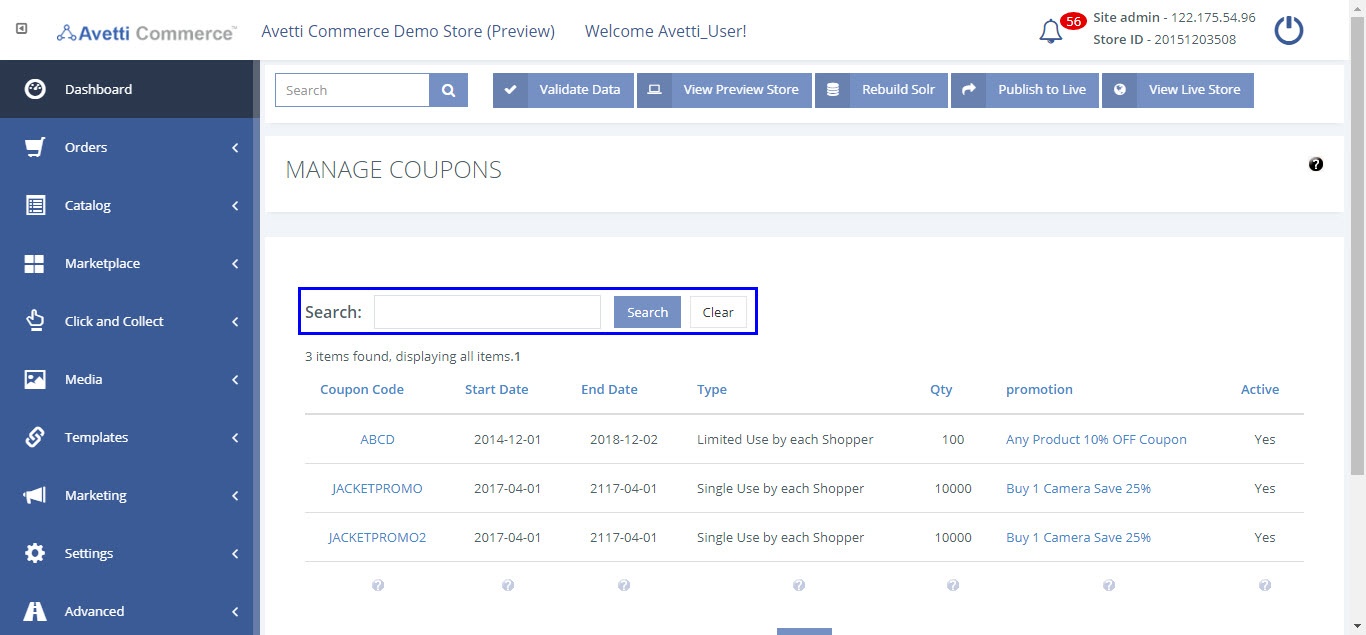 Edit a Coupon #
The coupons will always be bound to a specific promotion. Check promotion column to see the promotion of the coupon.
There are two ways of editing a coupon.
The first one is by going to the Manage Promotion admin page (refer to the following link).
The second option is to go to the Marketing | Coupons page and edit the coupon from there.
Editing a Coupon in Marketing tab #
Click on a Coupon Code link to edit a coupon. The Manage Coupon Codes page will be displayed.
Modify the coupon as required.
Click save to the entered details.
Click on Add new coupons to add more coupons.
Click on the promotion link to modify it or to see the promotion description.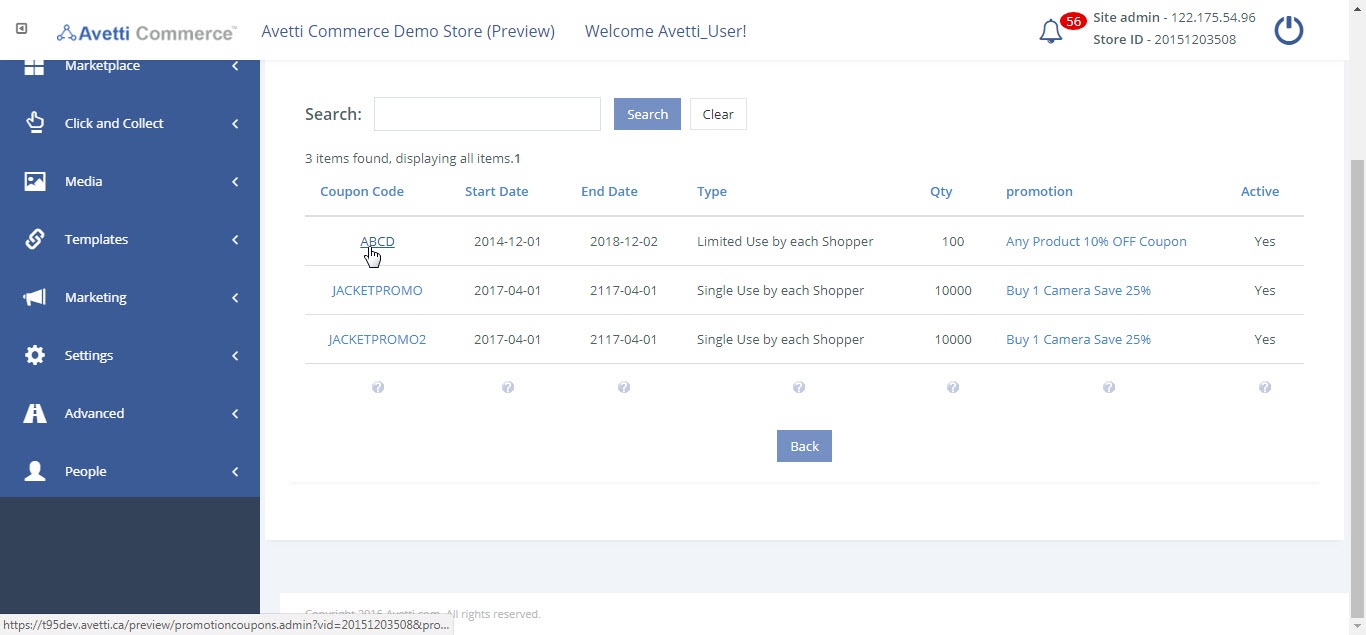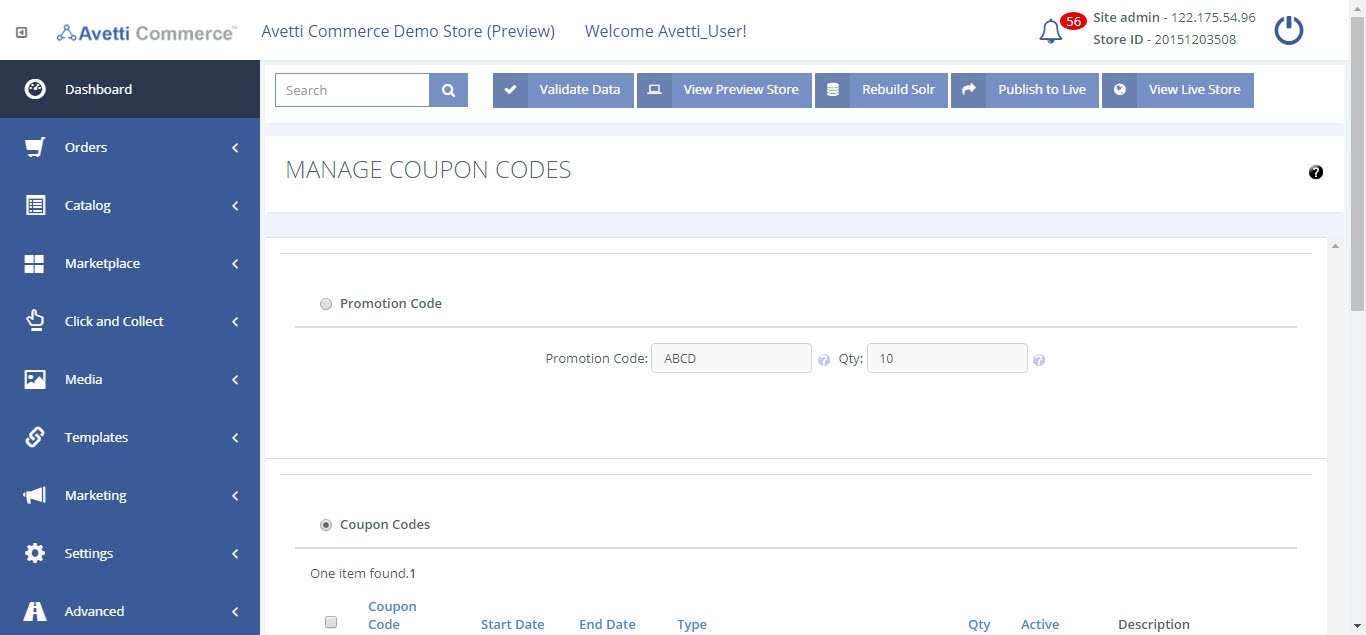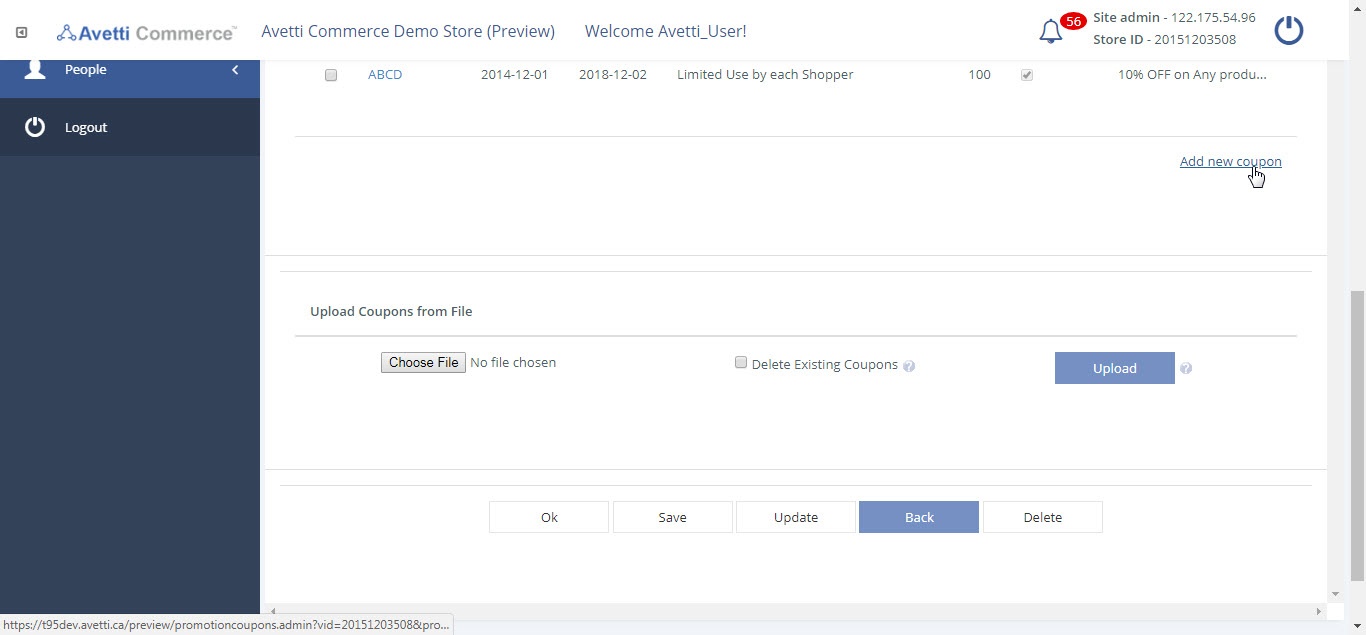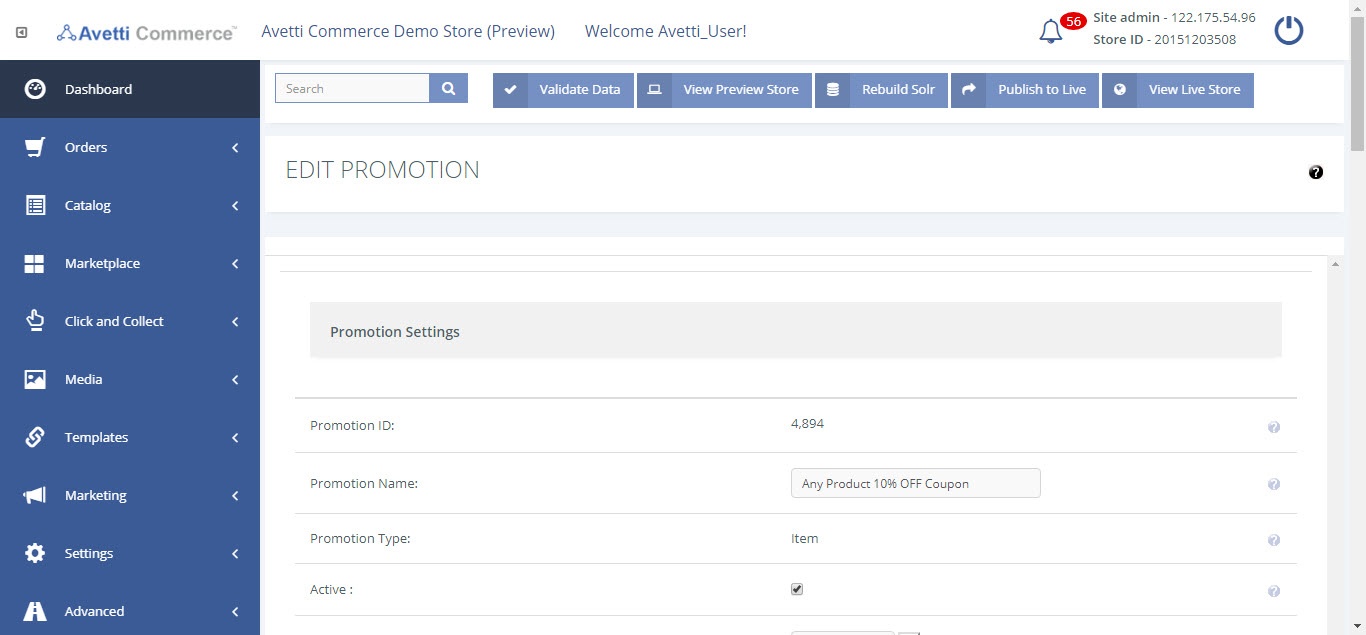 Delete a Coupon #
Click the coupon code to delete.
You will be redirected to manage coupons page.
Check the checkbox beside the Coupon Code.
Click the Delete button.